Pizzeria Anarchia
Pizza Info Flyer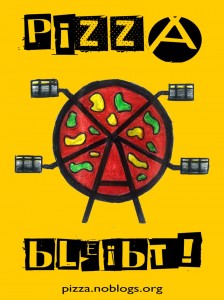 more languages will follow…
Urgent Call for Support and Solidarity
Pizzeria Anarchia is a squat in Vienna that exists since a bit more than two years. Now, it is in danger of being evicted pretty soon. The date given by the court for us to leave is February 5th 2014. But we will not go out. Instead, we call for a demonstration in Vienna that day and solidarity actions everywhere.
As we will not leave, the owners will apply for the court order to be executed. This will probably take a few weeks. Then, if they stick to the law, they will have to send us a letter with the date for an eviction, though we can't be sure if they will stick to this date eventually.
We were allowed into the house by the owners in the beginning. They did this because, as they have admitted in court, they expected the older tenants who were living in two of the flats with regular rent contracts since decades to be scared away as a result. This was clear from the beginning, and soon we found out that the two owners specialized in buying houses with just a few people left. These houses are comparably cheap especially if the contracts have no time limit. Under Vienna law it is hard to get these people out, which is necessary for making the maximum profit with the house by renovating and selling each flat indiviudually, or tearing down the house as a whole. In the case of the pizzeria and other houses owned by the same people, sabotage, psycholgical terror and extreme neglect of the house were part of the strategy to get the people out. Even though the two owners of the pizzeria are particularily creative, pushing people out of their homes for maximizing profit is a common practice and a logical consequence of a system based on private property.
For two years many people have participated in a weekly pizza people's kitchen with discussions, readings, info events, concerts, etc.; a weekly cinema, workshops like book binding and bicycle, language courses, meetings for political activities. We have lived here and found friends, comrades, acomplices.
We will not give up this place, we will resist, and we ask for all kinds of help. Come visit us any time from now to help us prepare for the eviction, organize solidarity actions, inform your friends, bring material, stay up to date, and come to support us on the day of the eviction! We will publish the date on our blog and on other channels. Consider coming before and staying longer!
Check our blog regularily and get in contact with us!
Also let us know about your struggles and how we can support you!
Solidarity is our weapon!
Pizzeria Anarchia in danger of eviction!
We will stay!
Occupy houses, live wild and dangerous!
We all are going to stay!
Pizzeria Anarchia
Dringender Aufruf zur Unterstützung und Solidarität
Pizzeria Anarchia ist ein Squat in Wien, das seit etwas mehr als zwei Jahren besteht. Nun ist es räumungsbedroht. Das gerichtlich beschlossene Datum, bis wann wir ausgezogen sein sollten, ist der 05. Februar 2014. Aber wir werden nicht gehen. Stattdessen rufen wir, an diesem Tag, auf zu einer Demonstration in Wien und Soliaktionen überall.
Da wir nicht gehen werden, werden die Hauseigentümer die Umsetzung des Gerichtsurteils durch die Polizei beantragen. Das wird warscheinlich einige Wochen dauern. Wenn sie sich ans Gesetz halten, müssen sie uns dann einen Brief schicken der das Räumungsdatum beeinhaltet. Trotzdem können wir uns nicht sicher sein, ob sie sich an dieses Datum halten.
Am Anfang ließen uns die Hauseigentümer rein. Dies taten sie nur aus dem Grund, wie auch vor Gericht zugegeben wurde, um die AltmieterInnen, die in zwei der Wohnungen mit regulären Mietverhältnissen seit Jahrzehnten leben, zu vertreiben. Das war von Anfang an klar, und bald fanden wir heraus, dass die zwei Hauseigentümer spezialisiert sind Häuser zu kaufen in denen nur noch wenige Menschen wohnen.
Diese Häuser sind im Vergleich billiger, vorallem wenn die Verträge unbefristet sind. Unter den herrschenden Gesetzen Wiens ist es sehr schwer die AltmieterInnen rauszubekommen, was aber nötig wäre um maximalen Profit aus dem Haus herauszuschlagen, indem man es renoviert und jede Wohnung individuell verkauft oder gleich das ganze Haus runterreisst. Im Fall der Pizzeria und anderen Häusern, die den gleichen Leuten gehören, waren Sabotage, psychischer Terror und extreme Vernachlässigung des Hauses, die Strategien um die Menschen herauszubekommen. Obwohl die zwei Eigentümer der Pizzeria besonders kreativ sind, ist das Vertreiben der Menschen aus ihrem Zuhause um Profit zu maximieren, eine verbreitete Praxis und logische Konsequenz von einem System basierend auf Privateigentum.
Zwei Jahre lang haben viele Menschen teilgenommen an der wöchentlichen PizzaVokü mit Diskussionen, Lesungen, Infoveranstaltungen, Konzerten, etc.; ein wöchentlicher Kinoabend, Workshops wie Buchbinden, Fahrradwerkstatt, Sprachkursen, Treffen für politische Aktivitäten. Wir haben hier gelebt, Freunde gefunden, Companeras und Verbündete.
Wir werden diesen Ort nicht aufgeben, wir werden uns wehren und wir brauchen jede Art von Unterstützung. Ihr könnt uns zu jeder Zeit besuchen kommen, uns helfen mit den Vorbereitungen für die Räumung. Organisiert Soliaktionen, informiert FreundInnen, bringt Material vorbei, checkt aktuelle Infos, und erscheint zahlreich zum Tag der Räumung! Wir werden das Datum auf unseren Blog und andere Kanäle stellen! Überlegt euch schon früher zu kommen und länger zu bleiben!
Checkt regelmässig unseren Blog und kontaktiert uns!
Gebt uns auch Bescheid über eure Struggles und wie wir euch unterstützen können!
Solidarität ist unsere Waffe!
Pizzeria Anarchia räumungsbedroht!
Wir bleiben!
Besetzt Häuser, lebt wild und gefährlich!
Wir bleiben alle!
—————————–
Pizzería Anarquía
Llamada urgente de ayuda y solidaridad
Pizzería Anarquía es una okupa que existe desde hace poco mas de dos años en Viena. Ahora esta en peligro de ser desalojada, la fecha que nos da el tribunal para marcharnos es el 5 de Febrero de 2014. Pero no nos iremos. Por esto hacemos un llamamiento para una manifestación en Viena ese día y acciones solidarias en todos partes.
Como no nos vamos a ir, los propietarios iran al tribunal para que se ejecute la orden de desalojo. Esto probablemente tardara unas semanas. Entonces si aplica la ley, nos mandaran una carta con la fecha del desalojo, aunque no estamos seguros si mantendrán la fecha.
Al principio los propietarios nos permitieron la entrada. Hicieron esto porque el tribunal se lo permitió, los propietarios esperaban que los inquilinos de edad avanzada que viven en dos los pisos con un contrato regular de alquiler desde hace décadas, huyeran asustados por nuestra llegada. Esto estaba claro desde el principio, pronto nos dimos cuenta que los propietarios eran especialistas en la compra de edificios con pocos inquilinos. Estos son comparablemente mas baratos especialmente si los contratos son indefinidos. Bajo esta ley en Viena, es difícil desahuciar a los inquilinos, algo necesario para sacar el máximo beneficio, renovándolo y vendiendo cada piso individualmente o derribándolo. En el caso de la Pizzería y de otras casas de los mismo propietarios, sabotaje, terror psicológico y graves negligencias son parte de la estrategia para echar a la gente de sus casas. Los propietarios son muy creativos en el momento de desahuciar gente, es una consecuencia común y lógica de un sistema basado en la propiedad privada.
En estos dos años mucha gente ha participado semanalmente cocinando pizza, en discusiones, lecturas, eventos informativos, cine, clases de idiomas, encuentros para actividades políticas y talleres como encuadernación y de bicicletas. Nosotros hemos vivido aquí y hemos encontrado amigos, compañeros y cómplices.
¡No les daremos este lugar! ¡Resistiremos! Preguntamos por cualquier tipo de ayuda, ven a visitarnos en cualquier momento y ayúdanos a preparnos para el desalojo, organiza acciones solidarias, informa a tus amigos, trae material y ven el día del desalojo! Publicaremos la fecha en nuestro blog y otros sitios Web. Considera la posibilidad de venir antes y quedarte mas tiempo.
Visita nuestro blog regularmente y contacta con nosotros.
Haznos saber tus inquietudes y como te podemos ayudar.
¡La solidaridad es nuestra arma!
¡Okupa casas, vive salvaje y peligrosamente!
¡Un desalojo, otra okupación!
Pizzeria Anarchia
Mühlfeldgasse 12
1020 Vienna
pizza.noblogs.org
pizzeria (at) riseup (dot) net
+43 681 81 85 72 81
Más historia de Pizzeria Anarquia en diferentes idiomas:
http://pizza.noblogs.org/pizza-info-flyer/
————————–
Pizzeria Anarchia
Appel urgent au soutien et à la solidarité
La Pizerria Anarchia est un squat à Vienne qui existe depuis plus de deux ans. Nous sommes actuellement menacés d'évacuation. Le tribunal a décidé que nous devions partir d'ici le 5 février, mais nous resterons. Bien au contraire, nous vous appellons pour une manifestation et des actions de solidarité à cette date.
Puisque nous ne partirons pas, les propriétaires feront vraisemblablement exécuter le jugement par les forces de l'ordre, ce qui peut durer plusieurs semaines. S'ils s'en tiennent aux méthodes légales, ils devraient nous envoyer une lettre avec la date de l'évacuation, mais rien n'est moins sûr…
Au départ, les propriétaires nous ont laissé investir le bâtiment. En fait, ils souhaitaient ainsi chasser les anciens locatiares qui habitaient deux des appartements et bénéficaient de baux réguliers. C'était clair depuis le début et nous decouvrîmes bientôt que ces propriétaires'étaient spécialisés dans l'achat de bâtiments dans lesquels n'habitaient plus que quelques personnes. Ces maisons sont relativement bon marché, surtout si les baux sont à durée illimitée. Selon les lois en vigueur à Vienne, il est très difficile de déloger des anciens locatiaires. Et pourtant, il serait nécessaire de détruire le bâtiment. pour maximiser les profits. Voilà pourquoi, dans le cas de la Pizzeria et d'autres maisons appartenant aux mêmes propriétiares, on a sabotté,. terrorisé et négligé les bâtiments afin d'en chasser les occupants. Bien sûr, les propriétiares de la Pizerria sont particulièrment créatifs, mais ses pratiques permettant d'évacuer des locatiares pour maximiser le profit sont courantes et représentent les conséquences logiques de ce système basé sur la propriéte privée.
Voilà maintenant plus de duex ans que de nombreuses personnes ont participé aux bouffes populaires hebdomadaires de la Pizerrie Anarchia.Nous avons mis sur pied de nombreuses avtivités: des lectures, des projections, des rencontres politiques, des workshops, p. ex. de reliure ou de mécanique. Nous avons vécu ici. Ici, nous avons renontré des amis et des camarades.
Nous n'abandonnerons pas cet endroit. Nous nous défenderons et avons besoin pour cela de votre soutien. Venez nous visiter nímporte quand, nous aider pour préparer la résistance à l'évacuation, checkez régulièrement les infos actuelles. Organisez des actions de solidarité, informez vos cercles d'amis, apportez-nous du matériel. Et surtout, venez nombreux le jour de l'évacuation! Nous indiquerons la date sur notre blog et via d'autres méidas. Pensez déjà à venir en avance et à rester plus longtemps.
Visitez régulirèrement notre blog et contactez-nous.
Faites nous aussi connaître vos combats et la manière de vous soutenir.
La solidarité est notre arme!
Pizzeria Anarchia
Mühlfeldgasse 12
1020 Vienna
pizzeria.noblogs.org
pizzeria (at) riseup (dot) net
+4368181857281
——————————–
PIZZA RESISTE!
Ora più che mai
La PizzeriAnarchia, nata due anni fa, è uno SQUAT a Vienna.
Al momento è sotto grave pericolo di sgombero!
La data esecutiva fin quando dovremmo lasciare volontariamente la casa, è il 5 febbraio.
NOI INVECE RESISTIAMO
Mobilizziamo una dimostrazione a Vienna (05.02) e azioni di solidarietà dappertutto, sempre.
Perché ne vAle la pena!
All'inizio i proprietari dell'edificio, Avner Motaev e Nery Alaev, proprietari anche di Castella s.r.l., ne offrivano un uso a titolo gratuito inizialmente, fino marzo 2012 prolungato poi fino a giugno dello stesso anno. Se da un lato dicevano di essere motivati dalla responsabilità sociale, dall'altro la verA motivazione, che hanno anche ammesso di fronte al giudice, era quella di far scappare via dall'edificio i vecchi inquilini che lo abitavano, a causa del loro contratto d'affitto a tempo indeterminato (cosa poca conveniente per i sciacalli $immobiliari$). Era impossibile mandarli via con mezzi legislativi o persuaderli attraverso intimidazioni e sabotaggio da parte dei proprietari stessi.
Data questa situazione, abbiamo deciso di cogliere l'occasione.
Il nostro obiettivo, è ed era, di proteggere i restanti inquilini e resistere collettivamente contro le brutali pratiche commerciali dei proprietari.
Allo stessotempo, era chiaro che la maggior parte di noi non avrebbe avuto l'intenzione di lasciare la casa dopo la fine del tempo determinato nel contratto. In questo modo ci siamo posti in mezzo a uno dei tanti fronti di gentrificazione (speculazione con beni immobili a favore di una popolazione benestante a sfavore di una meno ricca) essendodel tutto consapevoli dell'intenzione del proprietario di usarci per il proprio profitto d'interessi.
Ora i proprietari della casa chiedono lo sgombero tramite le forze dell'ordine.
Il processo durerà qualche settimana e se tutto prosegue in modo giuridico, ci dovrebbe arrivare una lettera con la data dello sgombero.
Nonostante questo non possiamo essere sicuri che la data scritta sia quella effettiva.
In due anni, molti liberi viaggiatori, hanno partecipato alla PIZZAnarchia con la settimanale VOKÜ, concerti, serata cinema, workshop come legatoria, ciclOfficina, corsi linguistici, attività informa-attive, letture e la coltivazione del libero creativo pensiero. QUESTA È CASA NOSTRA!!! qui viviamo, abbiamo trovato amici e companeras. We still can do more!
Noi non lasciamo questo posto, noi resistiamo e lottiamo:
-contro la speculazione degli edifici
-per l'esperienza dell'autogestione e della vita collettiva, di una società equa
– semplicemente per avere un tetto sopra la testa!
Abbiamo bisogno di tutti i tipi di sostegno, motivati oggi piú che mai!
Venite sempre a trovarci e aiutateci con le preparazioni della resistenza allo sgombero.
Preparate dei piani, mettetevi in contatto, mobilizzate i vostri amici e state preparati per lo sgombero.
Comunicheremo la data sul nostro blog e su altri canali.
Tutti, vicini e lontani, tutti invitati, a venire, a resistere e a rimanere.
Contattateci e pure noi vi supporteremo nelle vostre lotte.
Amore e Anarchia
Pizzeria Anarchia
Mühlfeldgasse 12
1020 Vienna
pizzeria.noblogs.org
pizzeria (at) riseup (dot) net
+4368181857281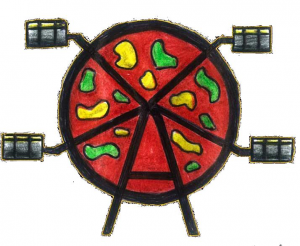 pizza.noblogs.org